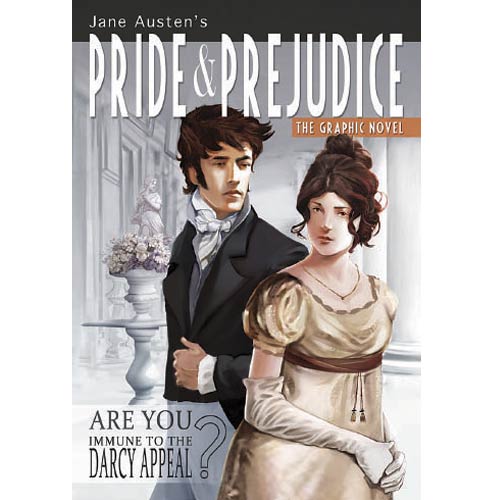 Making it's way to readers in September is a classic romantic tale — Pride and Prejudice — in the form of a glossy, magazine-size graphic novel from Campfire Graphic Novels.
Jason Quinn, creative content head says, "We wanted to take a tale that appeals to women and make a graphic novel, and what's better to start with than Jane Austen's classic with the quintessential protagonists Elizabeth Bennet and Mr Darcy." Set to launch at the Hyderabad Comic Con Express (September 21-22), the novel is an attempt to provide the right subject matter that will draw women into the world of comics, which has traditionally been a male-dominated arena, Jason says.
"We retained a lot of Jane Austen's original dialogues, especially the witty parts, and used the visual medium to cut down on the descriptive," he adds. This being just a start, Jason and his team are looking to take up stories that have strong female protagonists and create a niche for female readers. The 100-pager promises to give readers a movie experience with its lavish costumes and a more dashing Mr Darcy in the visuals.
Adi, author of the fiction thriller, Tantra, the story of Anu, a young vampire slayer, says that traditionally the women displayed in comics portray the 15-year-old male fantasy. "With tiny waists and glorified busts, they don't appeal to women, because they don't have real woman problems and especially in India, very few would steer towards graphic novels. In the global arena though, the stereotype has been broken already, especially with Japanese manga, which has a wide and loyal female readership, he says. "Storylines in manga are highly evolved and complex with subjects go beyond superheros and action.
Fiction, everyday stories, thrillers, sci-fi, it's all there in manga and it appeals to audiences from nine to 65 years and includes men, women and children." Adi, who hopes that his own work be made in a manga rendition, feels that "anything you see women drawn to in books and films, can translate into topics and can appeal to women as graphic novels as well."
While female readership may not be a stronghold for graphic novels in India, there is a growing interest in the sector, says Karan Vir Arora, CEO, Vimanika Comics. "There's no need for separate topics that appeal to women, as mature content will attract readers across the board. Our Shiva trilogy graphic novels have a strong following among women, who find the character to be a cool, complete man," he says, adding that some women have told him they would like to marry Shiva.
In India, the mythology angle works very well, and in third part which will be launching soon, female readers will draw a connect with the strong portrayal of Shiva's female element — in the form of Parvati/Sati/Kali/Shakti. "While pure action mostly doesn't appeal to women, a story needn't be just a romantic tale either. A story that is well researched, realistic and has a novelish feel too makes for great material for a graphic novel, and will appeal to men and women alike," Karan explains. As they did in manga, it's essential for Indian graphic novels to tap into indigenous topics, bringing out stories and expressions that have an Indian feel, understanding that it's not necessarily history that is a niche to explore.
Source:-DNA