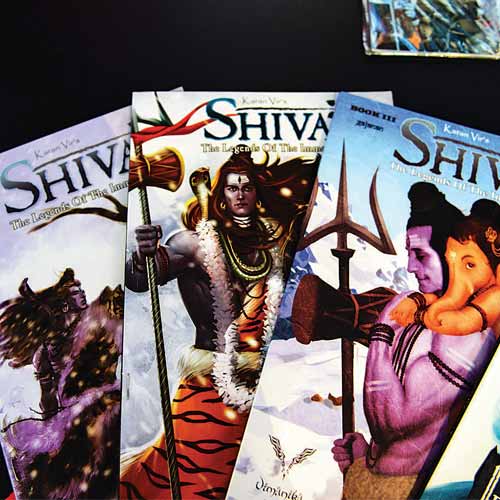 A collection of Vimanika Comics - Khushnum Bhandari/DNA
Comic book aficionados in the westcoast have something to look forward to! The queen of the suburbs, Bandra, just got its first comic book store. Vimanika Comics, known to have made heroes out of Indian mythological characters including Lord Shiva, Ganesha, Kalki, and Dashaavatar, launched its flagship store in Bandra last month.
Situated in a quiet by-lane in Bandra, the red-and-black interiors of the store are in keeping with Vimanika's new logo. At first glance, you may feel that the 200 sq.ft. store does not do justice to the prolific brand, however, scan through the collection and you will be left spoiled for choice. With an old world charm to it, the store stocks comics and graphic novels for comic enthusiasts of all age groups. They also have T-shirts, framed posters, sketches, digital paintings, posters, canvas paintings, and other knick-knacks. "Though our target audience is between the age group of 12 to 40, our doors are open for all," gushes Karan Vir Arora, the creative director and CEO, Vimanika Comics.
A fitting setting Bandra, often referred to as a 'shopper's paradise', has its fair share of plush, huge glass-fronted stores selling designer wear as well as these hole-in-the-wall kind of stores selling quirky stuff in its innumerable by-lanes. Vimanika's flagship store is situated in one such bustling by-lane, off Linking Road. Arora, the brain behind it, says, "The store is located in a family-owned property. I had the option of opening the store in a sprawling mall for which I would have had to cough up an exorbitant rent. But I chose this." Quiz him on why he chose to have a store despite Vimanika's strong online presence, and he replies, "My father and I had been wanting to open a comic store for the last one year. What better location than Bandra, which is such a rocking shopping hub? It will give people from Mumbai as well as nearby cities, like Pune, a chance to come visit us."
Turning gods into superheroesThink of comic book superheroes and international superheroes like Captain America, Thor, Iron Man, Hulk, Wonder Woman, Superman, and Wolverine (to mention a few) throng the mind. At Vimanika Comics, however, the focus is on Indian superheroes. Ever since their inception in 2008, Vimanika has revamped and repackaged Indian mythological superheroes for the modern-day audience. Take their comics like The Legend Of Karna, in which the unfortunate hero of Mahabharata returns as a business tycoon, Dashaavatar, which talks about the ten different avatars of Lord Vishnu or the I Am Kalki series that addresses environmental concerns.
"Indian superheroes like Hanuman have often been side-lined. Few know that Superman has been inspired by Lord Hanuman," says Arora. He believes that it was not just the scarcity of Indian comic companies that propelled this venture, but also his agenda of educating the youth around the world about Indian culture, heritage, and spiritual values, which was spurred by the need to share the art of narration and visualisation with the world, which his brother had indoctrinated in him from childhood. Their current titles include The Sixth: Legend of Karna, Moksha, I Am Kalki, and Shiva-The Legends of the Immortal and Arora candidly admits that the content of their comics is part-fiction and part-true—often borrowed from ancient texts.
While at the store, do not be surprised if you stumble upon Dave Ryan's War Of Independence. "Of the 200 international superheroes in the book, the only Indian one to be featured is Karna," says Arora.
Fans galoreWestcoast resident Bhushan Prajapati became a fan of Vimanika Comics ever since he accidentally stumbled on their facebook page. A voracious reader and lover of the Vimanika titles, Prajapati has his own little Vimanika collection at home. "Indian mythology gets a whole new meaning with Karan Vir's efforts. I think he is doing a brilliant job."
Software developer and aspiring artisit, Sumit Sinha drove all the way from Pune for the store launch. Once at the store, Sinha waited anxiously for award-winning senior artist Amit Tayal to arrive just to get an autograph and left only after he had purchased all the new titles of Vimanika Comics. He says, "I love the Shiva comics. They are beautifully written and illustrated." Animesh Pathak, another Vimanika fan, returned home armed with a huge collection of their titles along with an exclusive sketchbook, signed by Arora.
Looking forward
Vimanika has more in store for its fans. "In the next six months we are coming out with two new titles--one is on Devi Durga and the other is on Lord Ganesha," confirms Arora. The store will also introduce new T-shirt designs along with polo neck T-shirts.
Source:-DNA