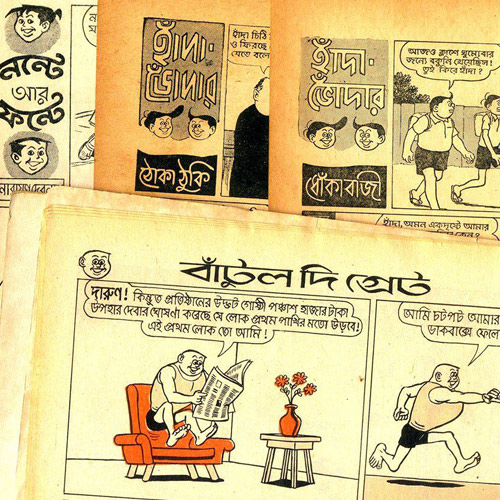 Making cartoons means very hard work at every step of the way, but creating a successful cartoon character is the hardest work of all.

—Joseph Barbera
The adage holds true for comic strip creator Narayan Debnath whose comic characters have captured the imagination of generations for decades together.
His name may not ring a bell with many, but his creations have found way in every household in West Bengal and have been a child's best friend on lazy afternoons.
Yes, he is the man behind immensely popular comic book series — Handa-Bhonda, Nonte-Phonte and Batul The Great, India's answer to superheroes like Batman, Superman and Spiderman.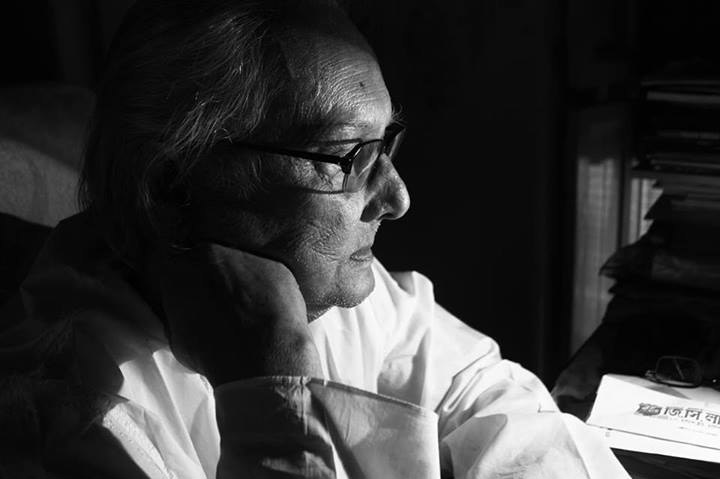 For someone who has entertained us with his comic characters for 50 years, recognition for Debnath has come very late in life.
The Executive Board of the Sahitya Akademi recently chose Debnath's Comics Samagra for its Bal Sahitya Puraskar for 2013.
The 500-page book, compiled and edited by Santanu Ghosh, includes all his comics characters over the last 50 years. The book was published by Lalmati Publications in 2011.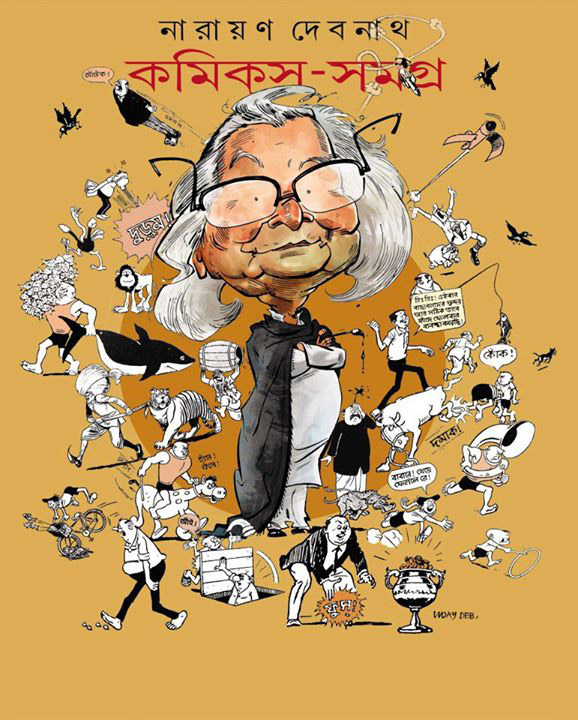 The book, published under the name Narayan Debnath Comics Samagra, includes all of Debnath's published and unpublished works complete with a brief biography of the artist and research on his 50 years of art work.
First-of-its-kind in the history of Indian comics, the book has been published in three volumes.
Debnath has been invited to attend the prestigious award ceremony in Panaji, Goa on November 15.
Love affair with art
Debnath's fascination with visual arts began very early in life. Coming from a family of gold retailers, art was always a part of his life in the form of designing patterns for gold jewellery.
Later, he decided to take up his interest seriously and joined the Indian Art College to study fine arts. However, he discontinued his five-year course in his final year.
After dropping out, he freelanced for advertising agencies for some years. His first break came in 1950 when he joined Dev Sahitya Kuthir, a renowned publishing house.
During his stint at the publishing house from 1950-1961, he illustrated several children's books, which also included translation of Western classics.
Stepping into the world of comics
He entered the World of comics with Handa-Bhonda in 1962, a time when comics was yet to be a part of the Bengali culture.
The comic strip, first published in Shuktara magazine, was an instant hit and continues its successful run till now.
In the initial days, Handa-Bhonda were printed in black and white. His first comics strip in colour was that of Batul The Great.
Handa Bhonda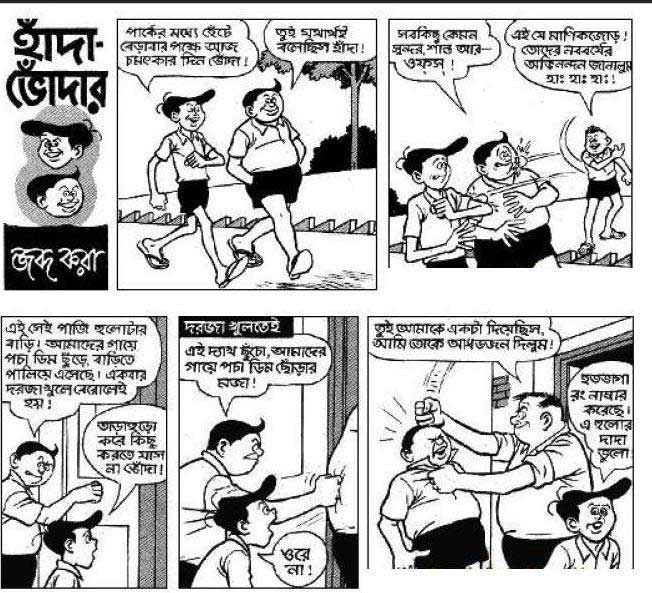 Handa-Bhonda were born at the suggestion of editors at Dev Sahitya Kuthir, who encouraged Debnath to work in comics in Bengali.
The series feature two young boys, Handa and Bhonda, who live with their fraternal aunt and uncle. Handa is more mischievous and gives others, mostly Bhonda, a hard time. However, in most stories Handa gets punished for his mischiefs.
The hugely popular series is still read by scores of comics lovers. Debnath's Handa Bhonda andNonte-Phonte are also available on an Android app published by Comixphere.com.
Batul The Great

Debnath based Batul's character on his friend and famous bodybuilder Manohar Aich. Bantul, which started of as a human character, went on to have superpowers at the inistence of the editors to add 'an aura of invincibility' to the charater during the Indo-Pakistani War of 1971.
After much hesitation, he gave Batul the ability to take on tanks, airplanes, and missiles and made him immune to bullets.
Batul is still drawn by Debnath for children's magazine Shuktara.
Batul is a superman-like character, with a well-built body and enormous strength. He has a great appetite and sometimes has a whale for his breakfast. Unlike other heroes, Batul does not wear any attractive attire. Rather, he is always seen clad in a pink or orange vest and a black shorts.
With him stay two mischievous boys — Bachhu and Bichchu, also known as Goja and Bhoja.
Other characters in the comic strip include Lambakarna, who has long ears and special powers of hearing; Batul's aunt; his pet dog Vedo, and a pet ostrich, Uto.
Nonte-Phonte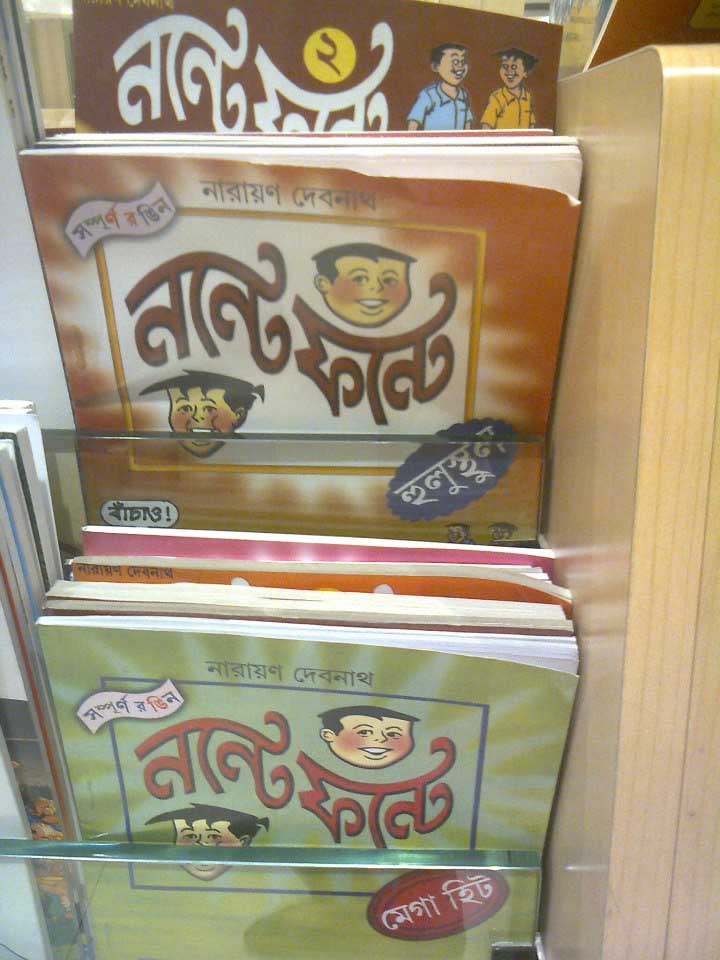 Debnath thought of the characters when the editor of Kishor Bharati magazine insisted on a comic strip on the lines of Handa Bhonda. Soon, Nonte-Phonte developed a separate storyline and was also published in comic book form due to its growing popularity.
In many of the earlier strips and comic books, Nonte and Phonte do not always get along. Their tension is similar to that of Handa and Bhonda.
Nonte and Phonte often do a lot of social service and in many cases uncover crooks.
Other characters in the series are Keltuda, a 19-year-old tall boy, who is a bully and often works against Nonte-Phonte. However, sometimes the trio come together to do some good work.
Another recurring character is Superintendent Hathiram Pathi, the 50-year-old hostel superintendent, who is lazy and greedy and often tries to cause trouble for Nonte-Phonte.
Some of Debnath's other works are Black Diamond Indrajit Roy, Potolchand The Magician,Koushik Roy, Bahadur Beral, Daanpite Khandu Ar Tar Chemical Dadu, Petuk Master Batuklal andSutki Mutki.
At the age of 88, Debnath continues to light up the lives of young and old alike with his adorable characters.
source:-http://www.dnaindia.com